Waldarry Festival 2013
"Spirit of 76" was the theme this year. Billy and Larry each turned 30, and Alex had her Sweet 16, so 30+30+16=76! We even hung a celebratory flag to honor the occasion, and had a special cake decorated by Alex and friend Savannah to emphasize the festival theme.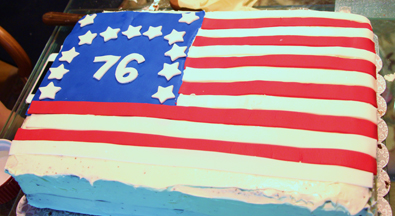 We had forecasts of occasional severe thunderstorms, but used all our charm to keep them at bay. In fact it never rained at all, and was a fairly nice day, with a high of 94 degrees. Believe it or not, that was actually cooler than the prior couple of years, so all in all the weather was good to us.
We had 102 guests in attendance, of which most were still around for the evening fireworks. We estimate about twenty folks were attending their first Waldarry Festival, so we hope we provided them the experience of a lifetime!
You can see a collection of photos from the day by clicking Festival 2013 Photos. In addition, the complete fireworks video (17 minutes) can be seen by clicking Festival 2013 Fireworks Video..