Waldarry Festival 2015
This year we celebrated a sesquicentennial (150 years). It marked 70 years of Pam Wood, 70 years of Bob Waldman, and 10 years of Pam and Bob together. A festive occasion to say the least!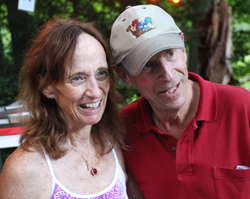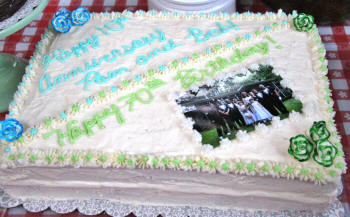 The day had an ominous beginning, with 0.77 inches of rain falling between 9 and 10 AM, causing a delayed setup. But the weather junkies said there would be no more rain until at least late evening, so the starting gun was sounded and the "go-for-it" was given. It was a wise decision as no more rain fell, and with a high temperature of 84 degrees, it was all-in-all a pretty decent day.
We had a good crowd with 133 people in attendance. We had folks travelling in from Los Angeles, San Francisco, Seattle, Ottawa, Montreal, Virginia, Maryland, Washington DC, Rhode Island, Massachusetts, and the usual local commuters from Connecticut, New York and New Jersey.
We had our now standard rocket launchings (with some occasional glitches this year), and we had another spectacular fireworks show (not without its very own startup glitches). Also presented was the very first Waldarry Flash-Mob Musical Production, featuring Sweet Caroline. You can see the Flash Mob and the Fireworks videos by clicking the links below.
To see a collection of still photos from the day click Festival 2015 Photos. The fireworks video (19 minutes) can be seen by clicking Festival 2015 Fireworks Video, and the Flash Mob musical production (3 1/2 minutes) by clicking Waldarry Flash Mob 2015.
If anyone has photos or videos to add to this collection, please send them to bob.waldman@gmail.com and we would love to include them!
SPECIAL NOTE: Quite a few folks have asked about the history and evolution of the Waldarry Festival. It is available on the www.waldarry.com website (under <photos> <general>) or simply click here to go directly to it.