Waldarry Festival 2017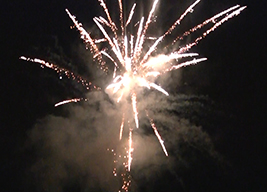 This year we had 105 Festival attendees. The theme was the "Power of Twelve," primarily dedicated to the twelve Waldarry family members. The number 12 was leveraged for other calculations related to the Waldarry family, including Pam & Bob's 12th anniversary.
The weather was good. A few days of rain prior to the Festival filled up the pond to allow excellent kayaking opportunities. The rain stopped early Saturday morning, and our day was partially sunny with a high of 86 degrees. Perfect!
We had guests from the states of Washington, California, Oregon, Virginia, Massachusetts, New Jersey, Pennsylvania, Rhode Island and locals from New York and Connecticut. Additionally, we had Canadians from Ottawa and Montreal.
There were three rocket launchings, and we had another spectacular fireworks show. As usual, there was a false start to the show (nothing is ever easy), but then it was a perfect performance once it hit its stride.
To see a collection of still photos from the day click Festival 2017 Photos. The fireworks (19 minutes) can be seen by clicking Fireworks Video.
If anyone has photos or videos to add to this collection, please send them to bob.waldman@gmail.com and we would love to include them!
SPECIAL NOTE: Quite a few folks ask about the history and evolution of the Waldarry Festival. It is available on this www.waldarry.com website (from the homepage go to <photos> <general>) or simply click here to go directly to it.