Pam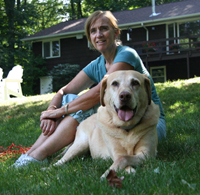 2007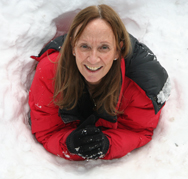 2010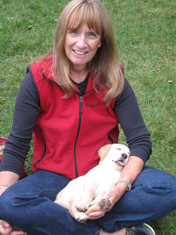 2010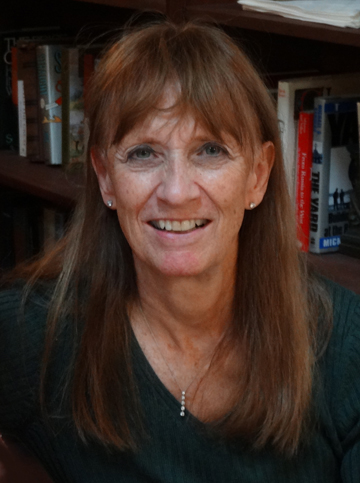 2012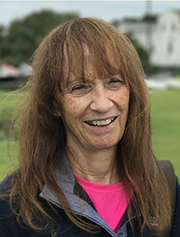 2017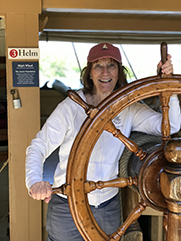 2019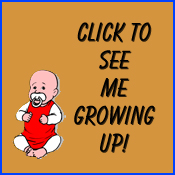 Updated April 2021
Five hundred twenty five thousand six hundred minutes.
Five hundred twenty five thousand moments so dear.
five hundred twenty five thousand six hundred minutes.
How do you measure,
Measure a year?
In daylights?
In sunsets?
In midnights?
In cups of coffee?
In inches, in miles, in laughter, in Strife?
In five hundred twenty five thousand six hundred minutes.
How do you measure a year in a life?
How about love?
It's time now to sing out,
though the story never ends.
Let's celebrate and remember a year in a life
of family and friends
No one could ever predicted how events have unfolded since the time I wrote my last update in June of 2019. A Year Like No Other.
In August 2019 Bob and I were joined by Billy and we took a week-long trip on Alaska's National Railway domed cars to some of Alaska's National Parks. The summer of 2019 was the worst fire season that Alaska had experienced and at times the fires were burning next to the tracks as we went through.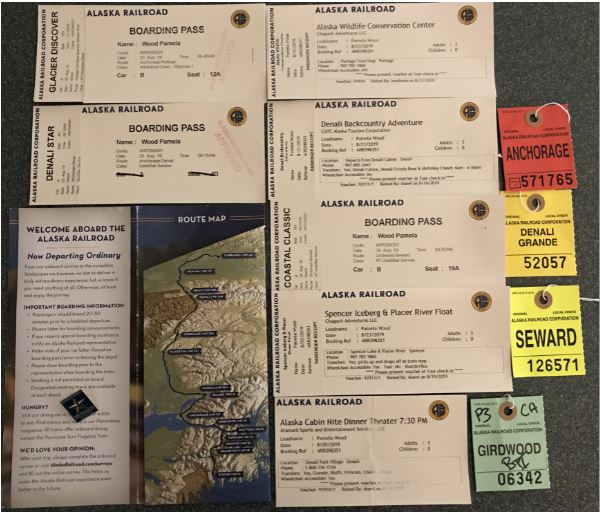 We travelled all the way to the end of the road in Denali National Park, while spotting wildlife and catching a brief glimpse of the summit of Denali.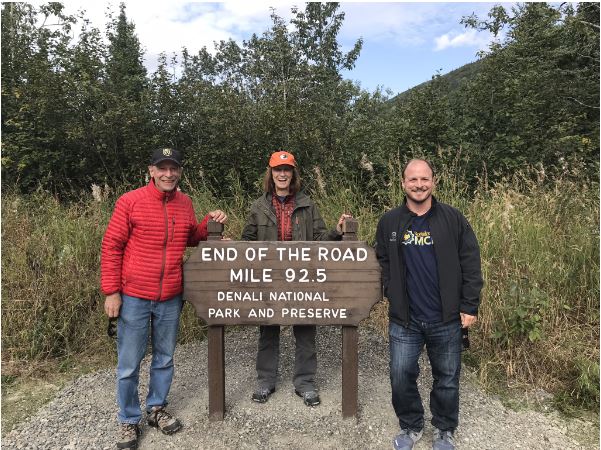 The train then carried us south to a Whistle Stop on the line to raft to the Spencer Glacier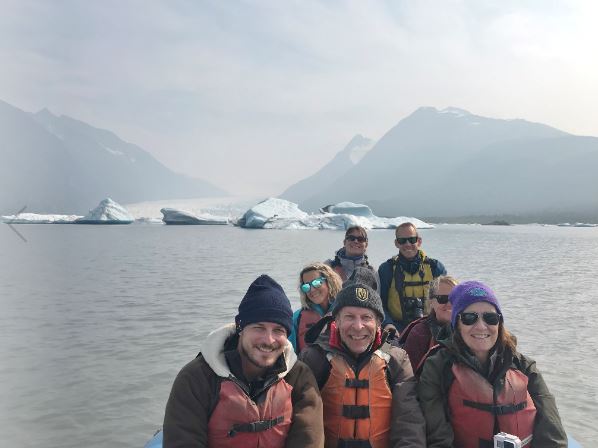 We also made a stop at the Alaska Conservation Center at Moose Pass and were amazed at the antlers on this caribou.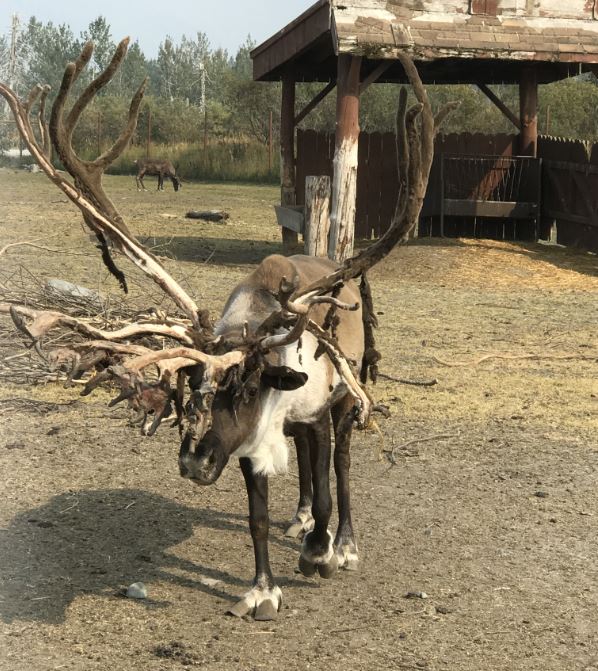 The train continued our journey further south to Seward where we boarded a small boat to travel through the fjords and islands of Kenai Fjords National Park to the Aialik Glacier face. Again, lots of wildlife spotting – orcas, whales, sea lions and way too many different species of birds to count.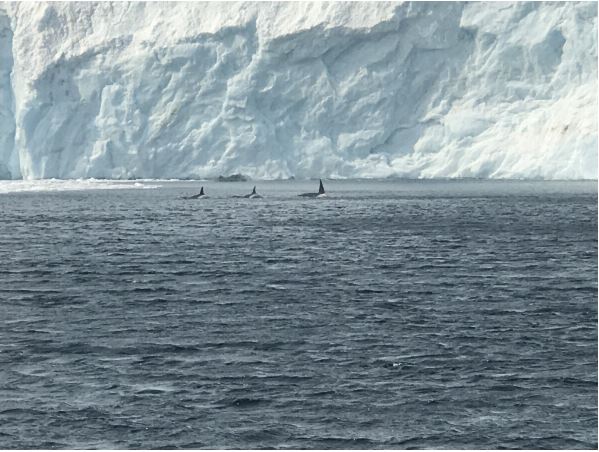 The week ended way too soon – but we did see some magnificent sunsets caused by the forest fire smoke.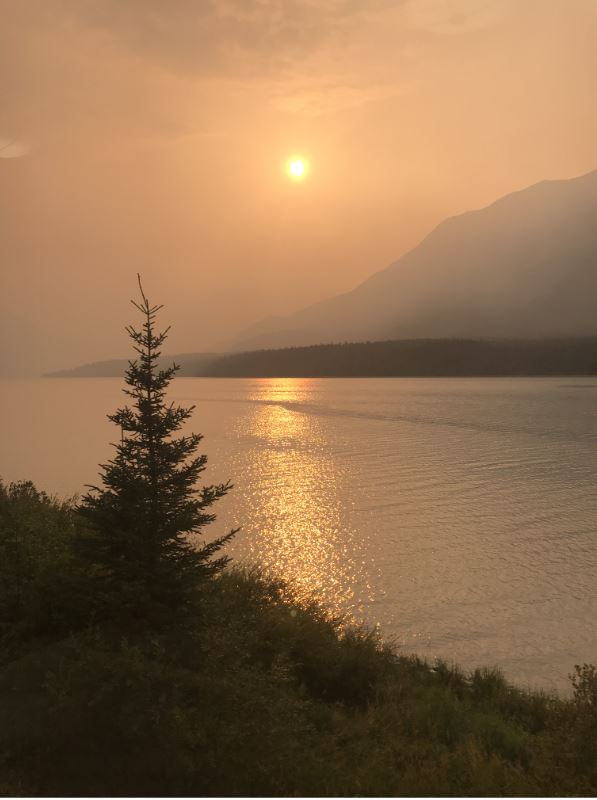 We celebrated Thanksgiving with a huge family gathering of the Wood and whole Perzel family clans. I think it finally ended up being about 23 family around 2 tables.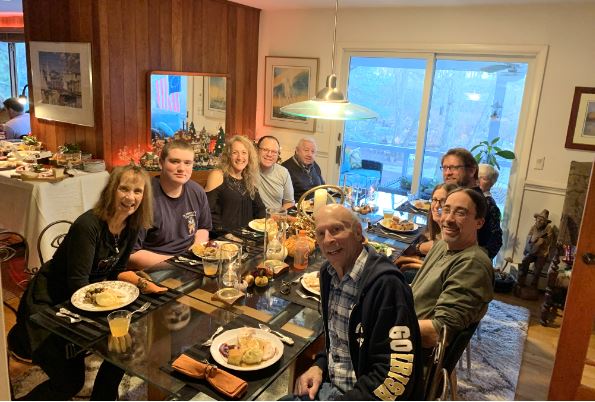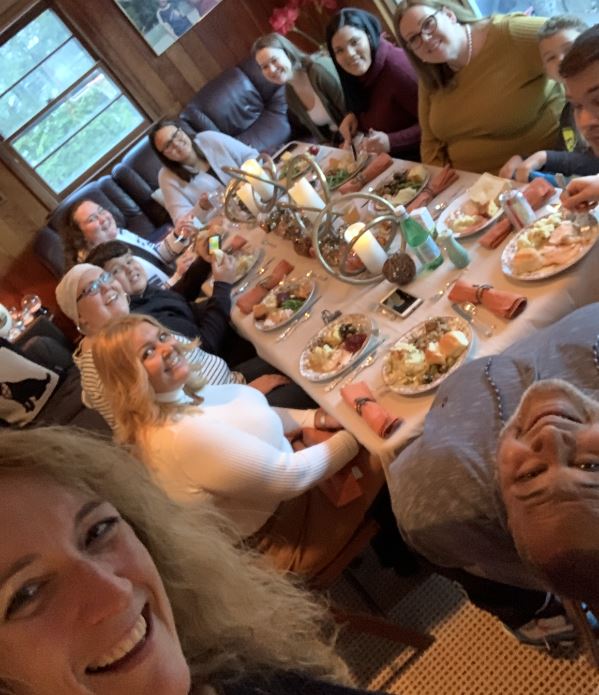 Little did we know at the time, trouble was already brewing halfway around the world but was not yet commonly known.

We had our annual Christmas gathering with most of the Waldarry clan present.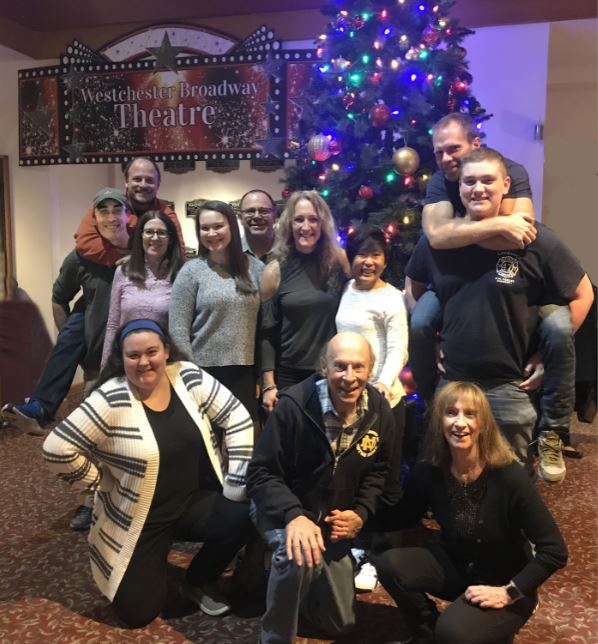 And, on December 28th, we adopted a two month old Potcake rescue puppy from Anguilla that we named Marley.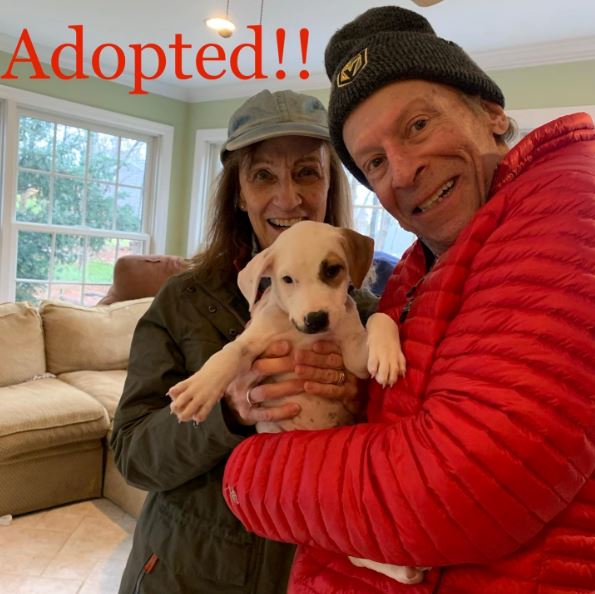 We planned out our new year in 2020. Larry, Katie, and Kenzie were adding a son to their family in January, so we planned take a trip to Seattle to meet him in late Spring. We subscribed to the Westchester Dinner Theater 2020 offerings and planned to spend summer Sundays listening to live music on the lawn of the Bartlett Arboretum. Larry, Bob, and I had planned a project to rebuild the Waldarry Festival fireworks hardware and software on a platform that was more reliable. Then of course, there would be the 2020 Waldarry Festival, Thanksgiving, and Christmas.
Then the world changed within days in early March. We quarantined ourselves at home and had groceries delivered by Whole Foods. All travel plans were cancelled as were all our planned events.
We celebrated Bob's 75th Birthday in June with a family Zoom Session.
You have to love technology! Bob continues to keep in touch with his grandkids Kenzie and Jackson on a daily basis using Facetime.

We did get the fireworks hardware and software rebuilt and tested and had the smallest Waldarry Festival in history (BJ, Amanda, Bob, Marley and I – all widely socially distanced) to keep the streak going. You can check it out by going to Waldarry Festival 2020.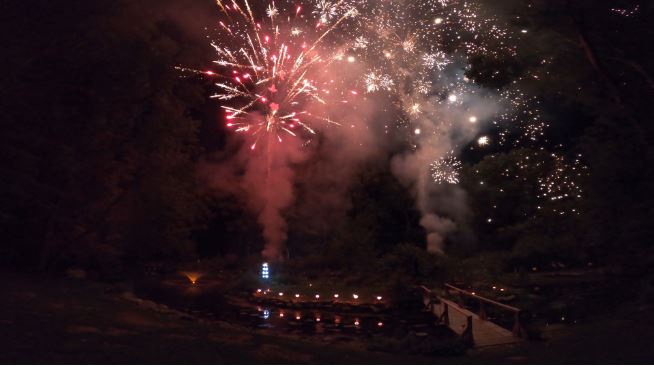 We had another family Zoom session on Thanksgiving to kick off the quiet holidays.

Since this would be the first Christmas that we hadn't been joined by family we were a bit conservative in our decorations and downsized the Christmas tree quite a bit. It was quite nostalgic to surround it with old toys from childhood.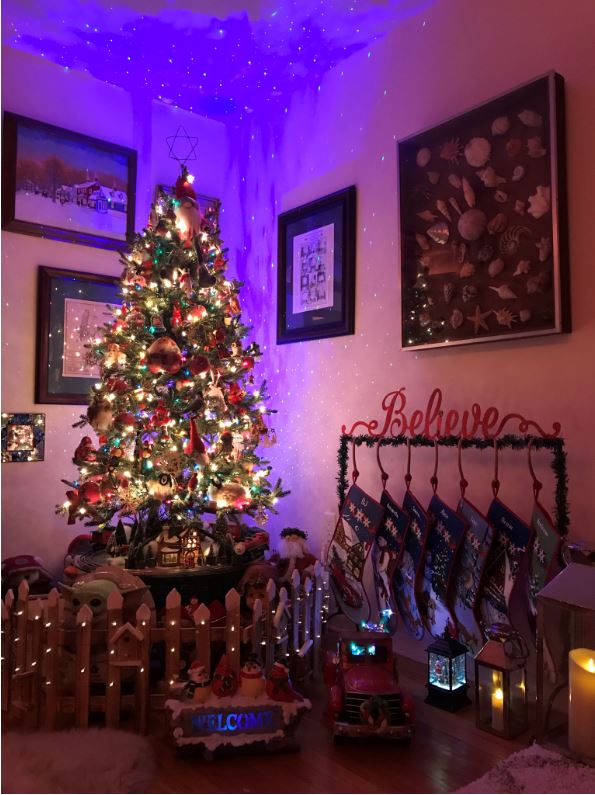 We welcomed 2021 with a couple of deep snowfalls

and had 188 mallard ducks spend the winter (lots of bags of Agway corn!!)

Both Bob and I were fully vaccinated by early March and as of this writing, our immediate families will soon be.

Daffodils just go on blooming – as do we.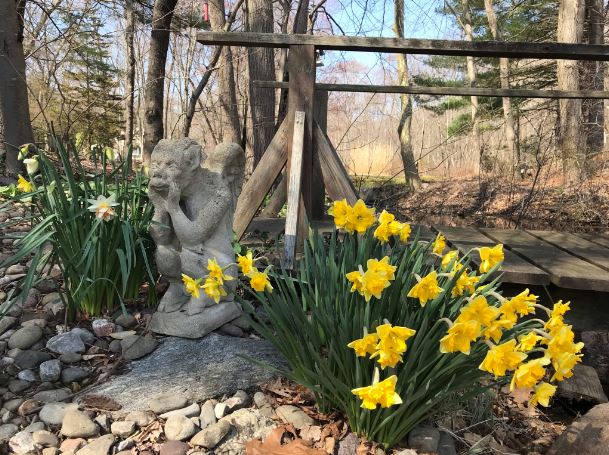 We are still being cautious and are hoping to start making plans again soon.

Meanwhile we get to enjoy spectacular sunrises every so often.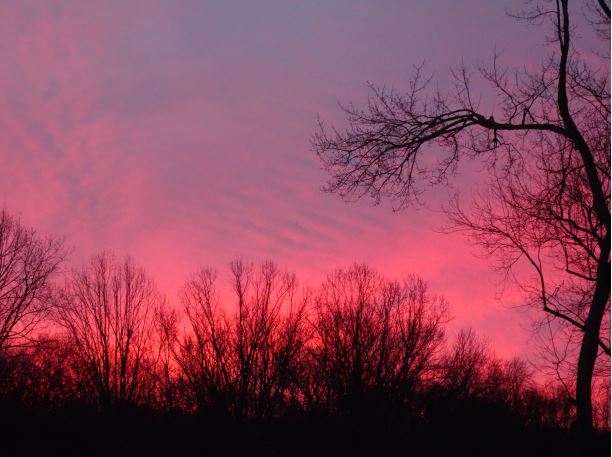 Updated May 2019
Retirement is treating us well. There's really never a dull moment around here.
In August 2017 we decided to drive to southern Illinois to see the total eclipse of the sun near Anna, Illinois where we were invited to stay with the Parks family that I had become connected with through Ancestry.com while doing family genealogical research on the same branches of the family.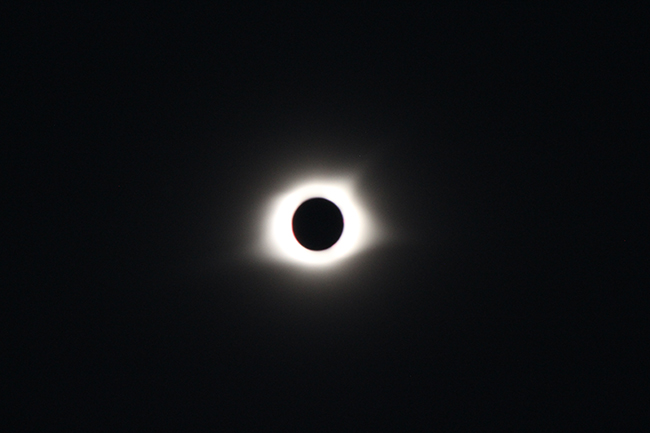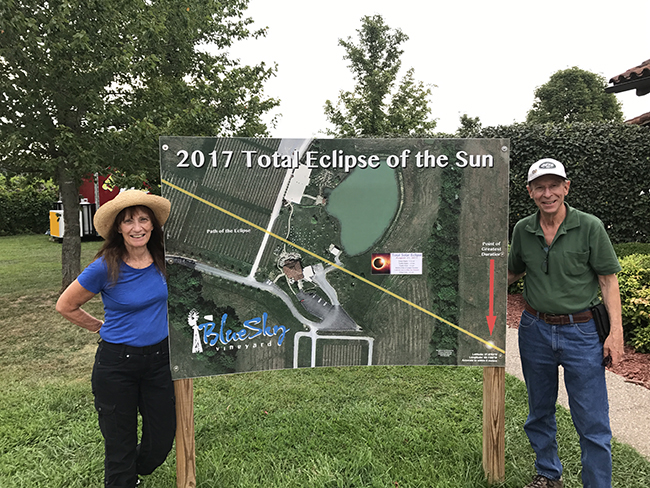 <![if !vml]><![endif]>They welcomed us into their family and we attended their church supper, went wine-tasting, enjoyed a grandson playing his viola for a family group in their kitchen. We had a perfect view of the eclipse from the front porch of their friend's farmhouse, unlike all the astronomers who had gathered from around the world in Carbondale, IL only a few miles away where much of the eclipse was covered by a cloud. We were so fortunate!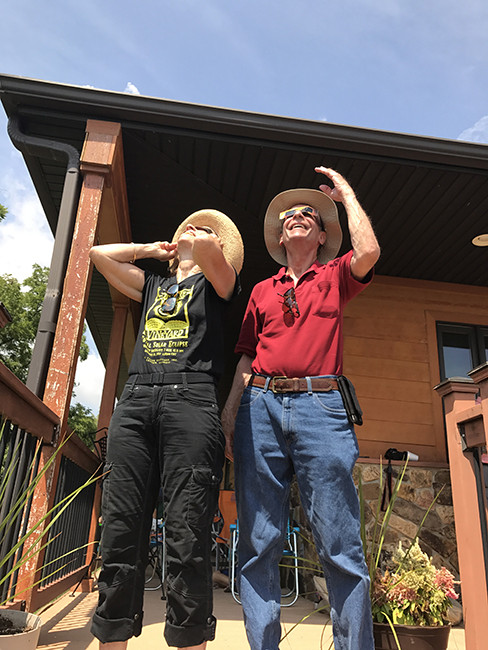 The next day on our way out of town we stopped at Fort Defiance Park at the confluence of the Mississippi (coming down from the right) and Ohio (coming in from the left) Rivers.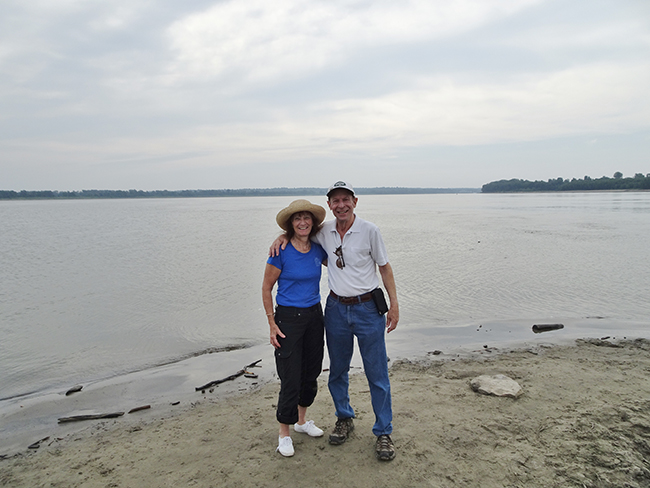 We continued our sojourn east through Tennessee, stopping at Pigeon Forge and Dollywood. Then on through the Great Smoky Mountains where we climbed Clingman's Dome (6,643 feet – highest point in the Great Smoky Mountain National Park and 3rd highest mountain east of the Mississippi)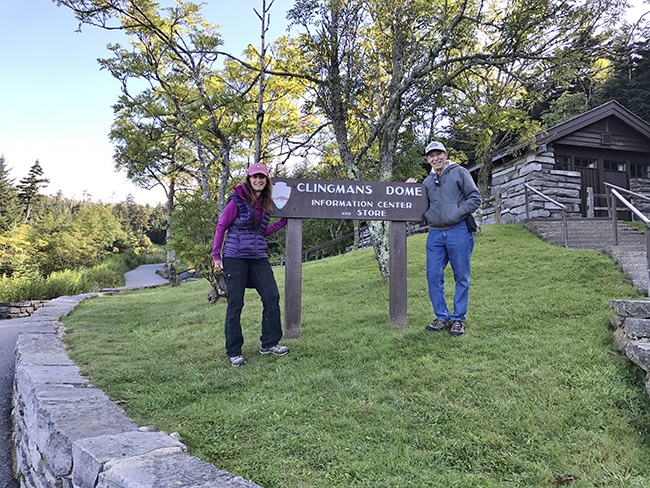 Onward to the Outer Banks of North Carolina where we met Billy and friend John McBean to watch them kite-surf.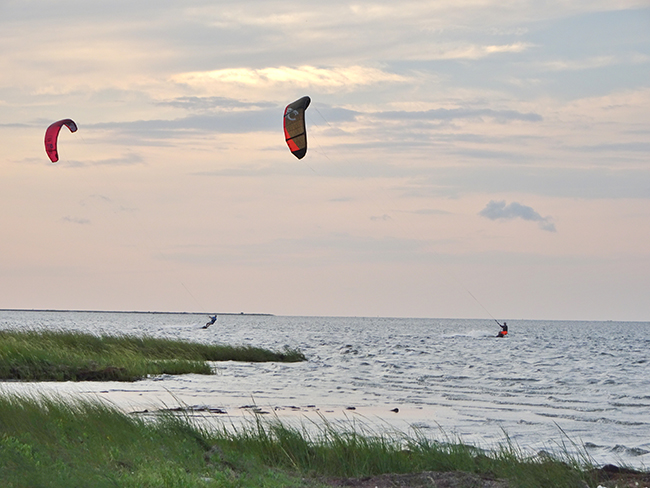 They taught me the technique for landing one of their kites as they came on to the shore.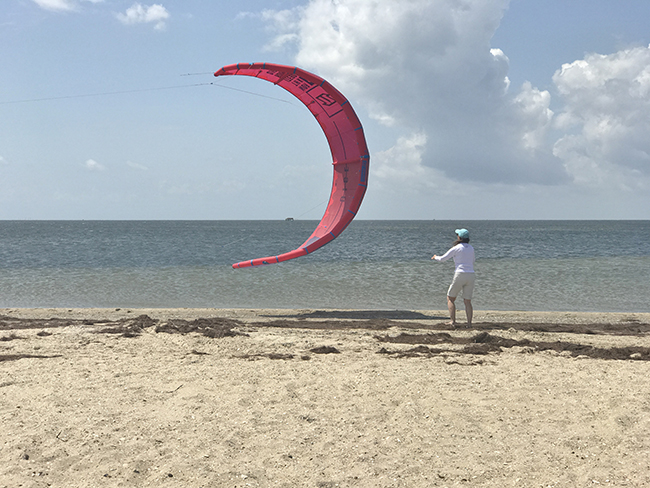 Spent a little time relaxing and enjoyed the Outer Banks before resuming the drive home.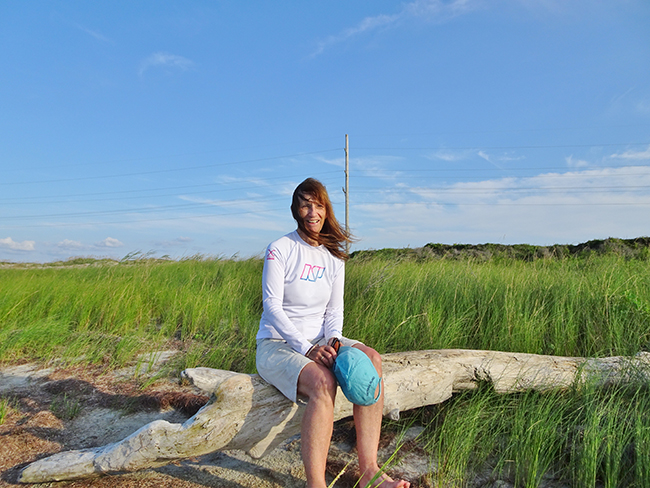 Back home we had a little bit of time to relax before Billy convinced us that we really needed to meet him and John in Las Vegas in October and go and see the Elton John Show at Caesar's Palace. This time, we were not driving, so we decided to make a long weekend around the show and went hiking in the Valley of Fire State Park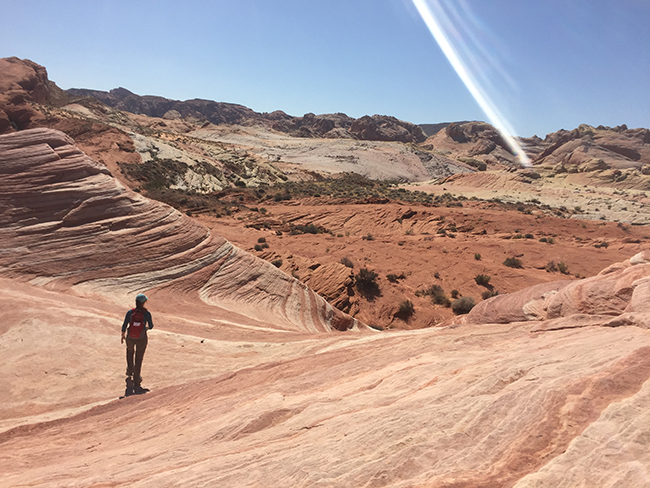 Red Rocks Canyon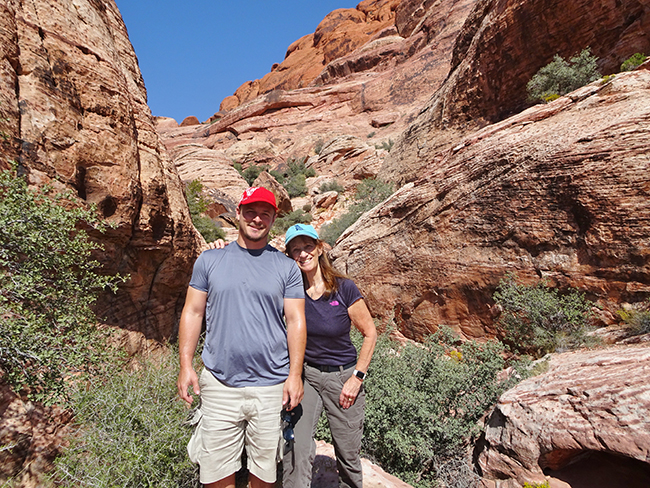 And then we kayaked down the Colorado River through the Black Canyon below the Hoover Dam.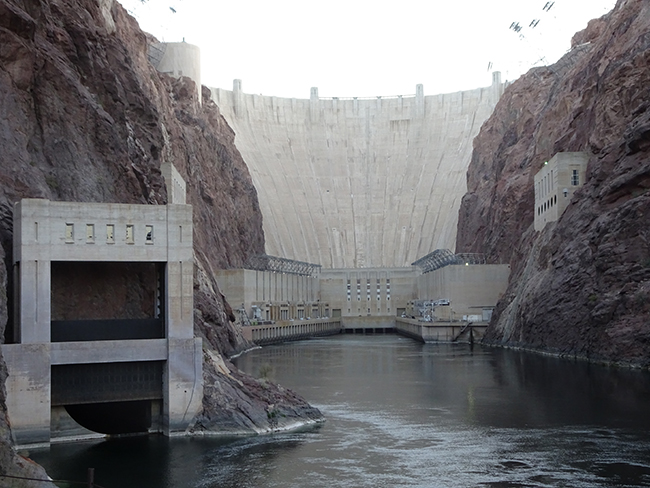 We put in just next to the huge water outlet on the left and spent an enjoyable day with a small outfitter group working our way down the river to Willow Beach. We were the oldest ones in the group of quite younger people – but we did manage to keep up
<![if !vml]>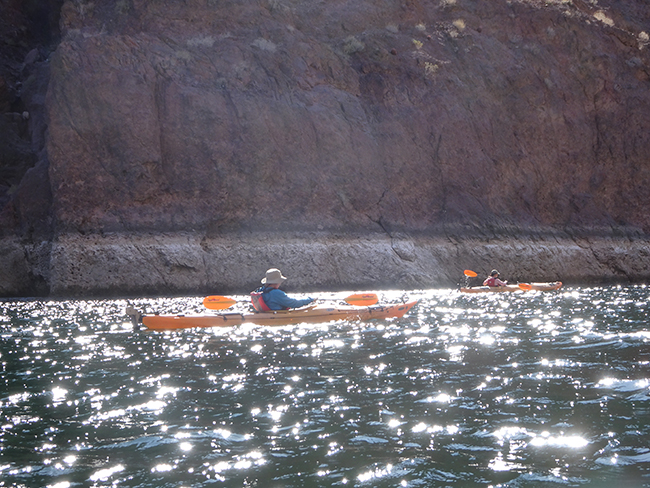 <![endif]><![if !vml]>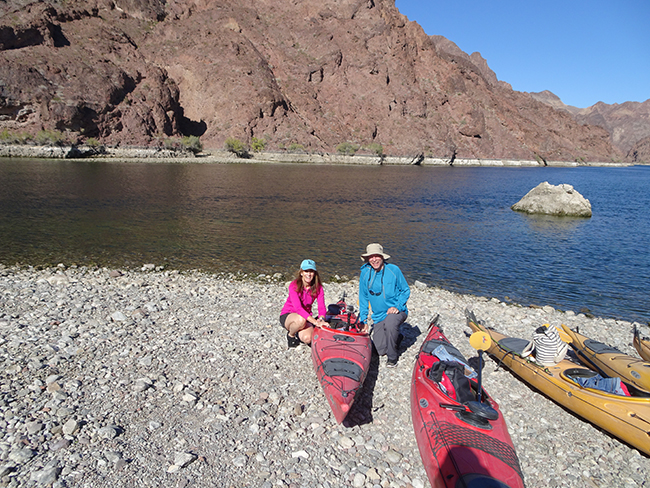 <![endif]>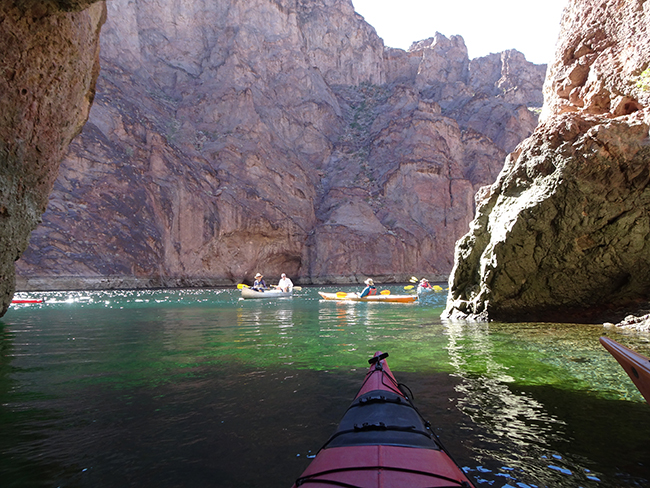 Cross one more thing off my list and on to year 2018!

By the time spring rolled around, I had spent several intensive years working in my gardens and this was going to be the year that no major work was needed and we were going to be able to sit back and enjoy life at an unhurried pace. Everything was so green and the spring bulbs and trees were blooming.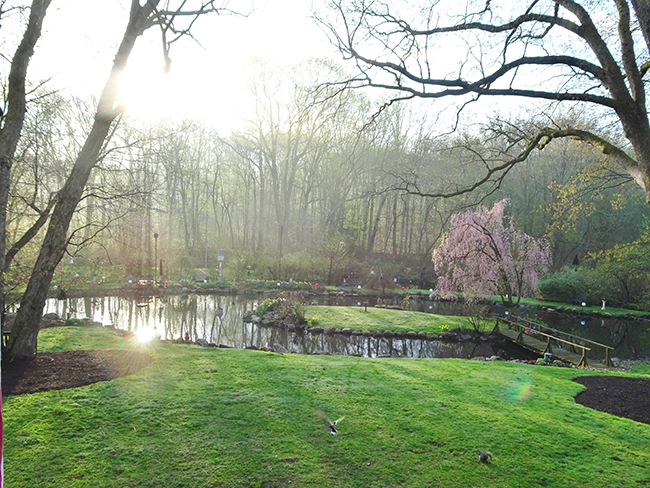 Then came May 15th. A severe line of thunderstorms approached our area and we went to sit on the back screened porch to watch and listen. As the wind started to tear through, we started to hear loud cracking noises coming from the oak tree.
And then, in extreme slow motion there was a final loud crack and the 160 year old oak tree gracefully collapsed across the bridge and island into the pond destroying everything in its path.
<![if !vml]>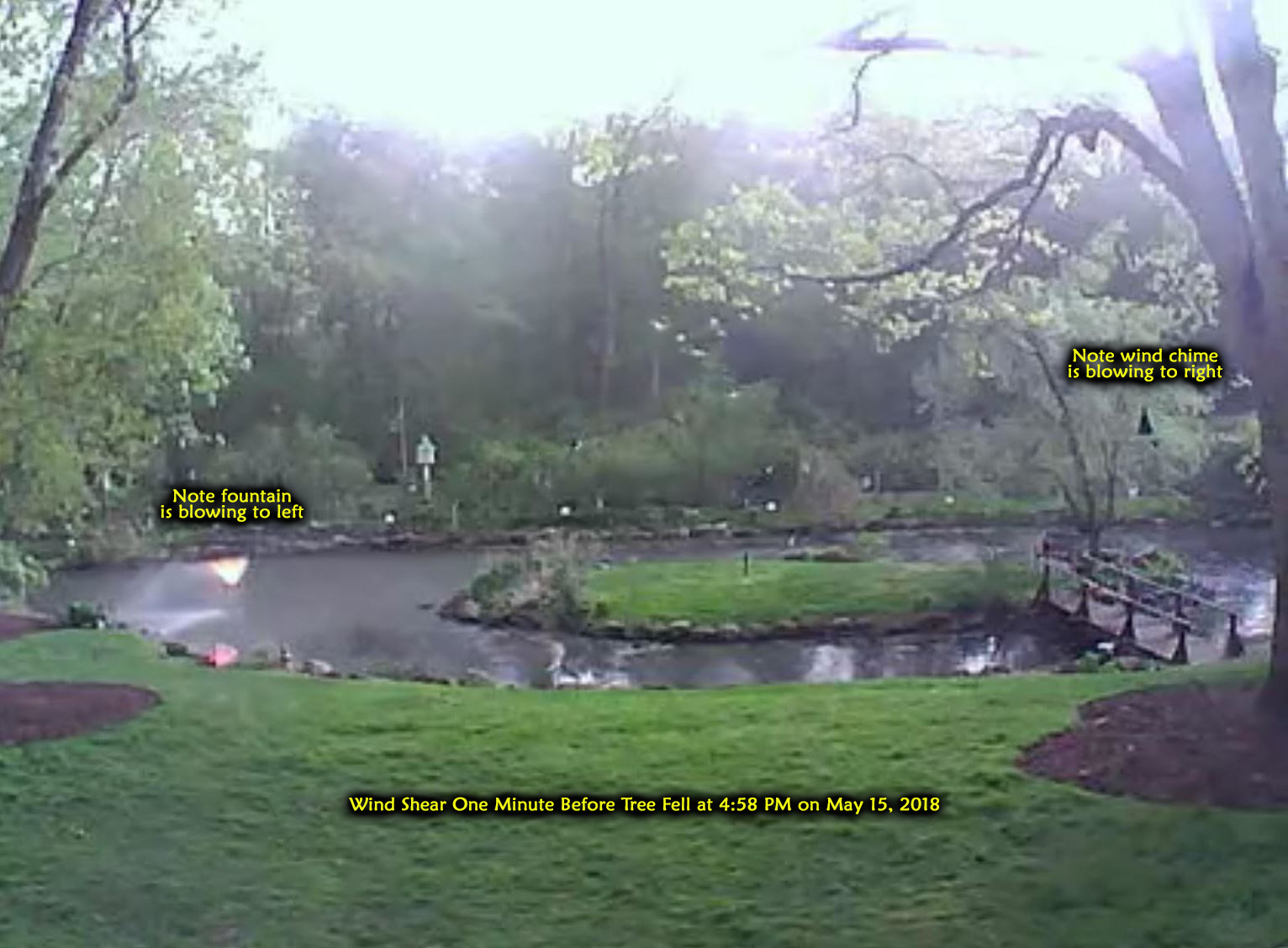 <![endif]>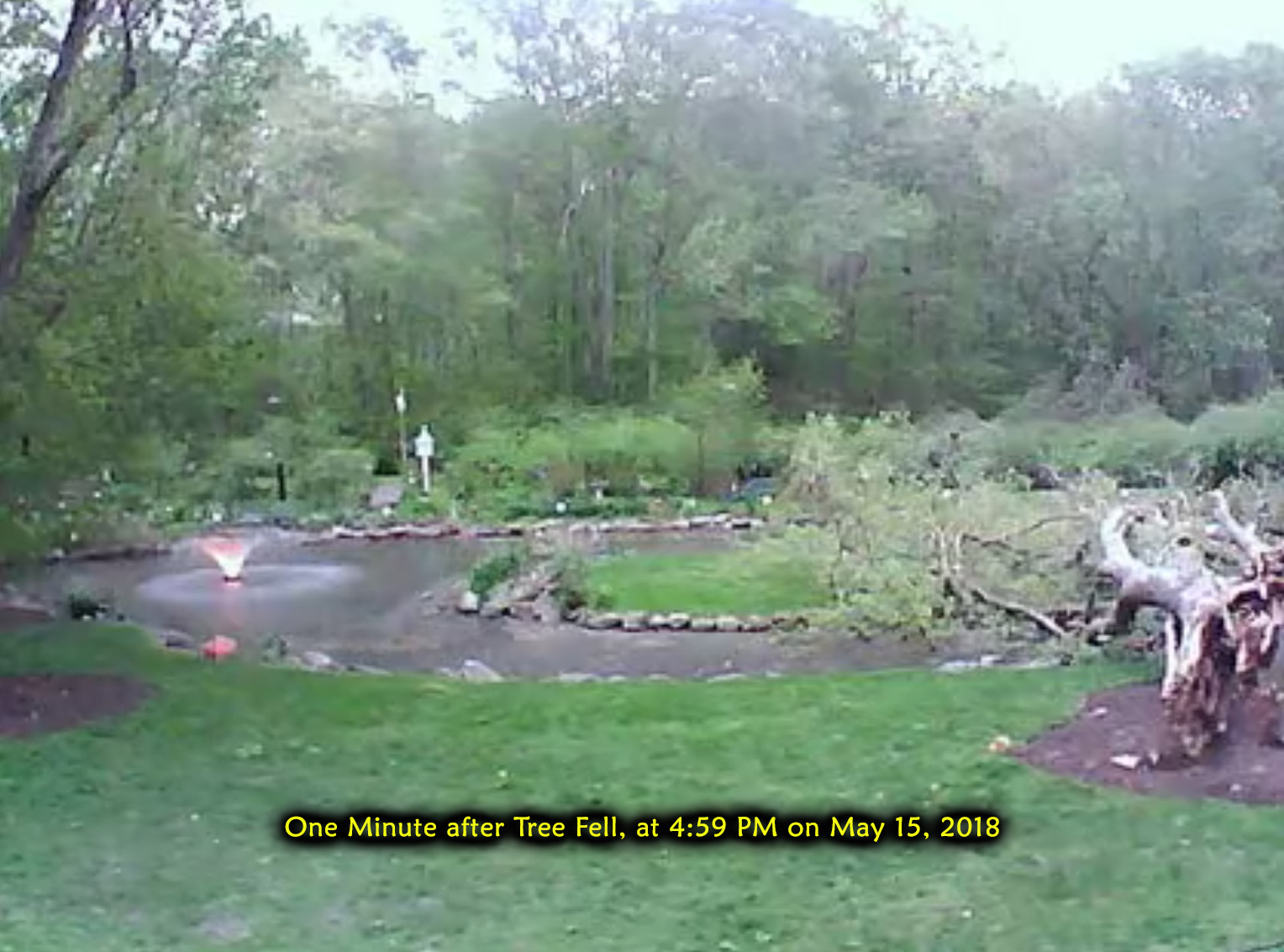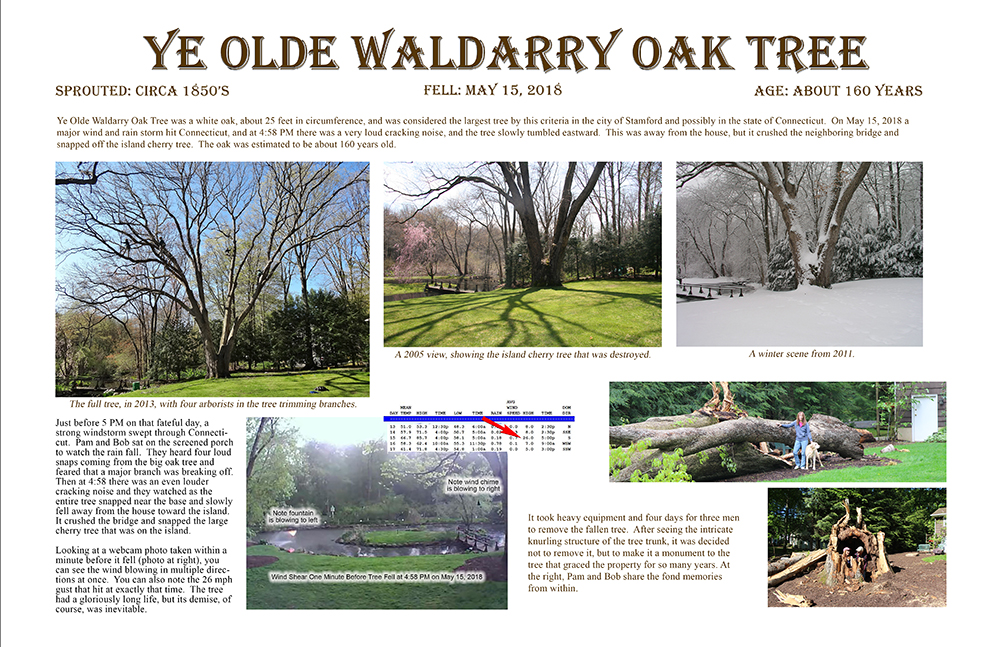 Here are a few of pictures of the immediate aftermath
<![if !vml]>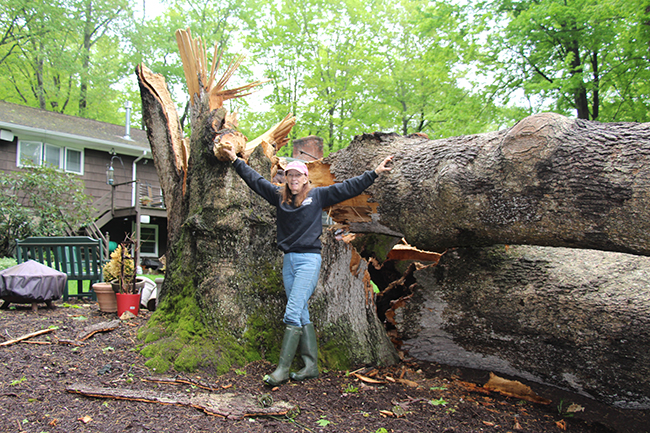 <![endif]><![if !vml]>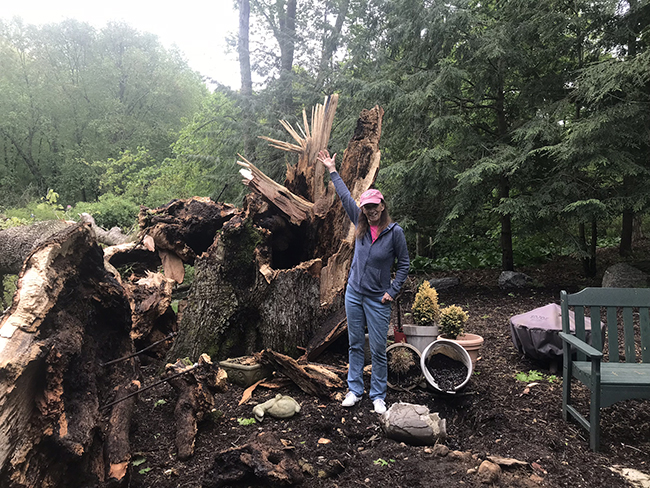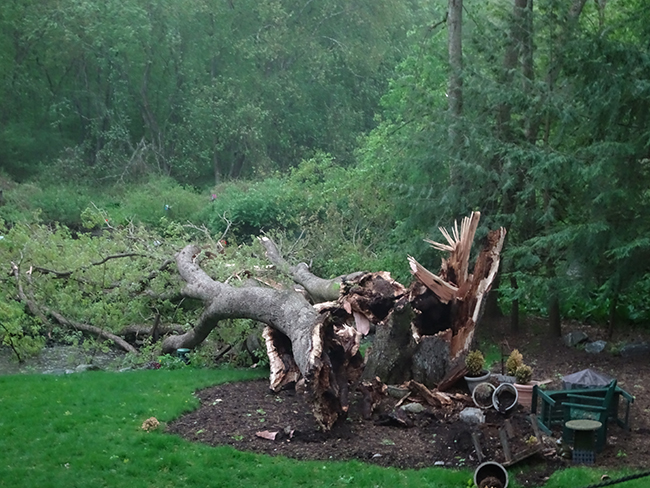 <![endif]><![if !vml]>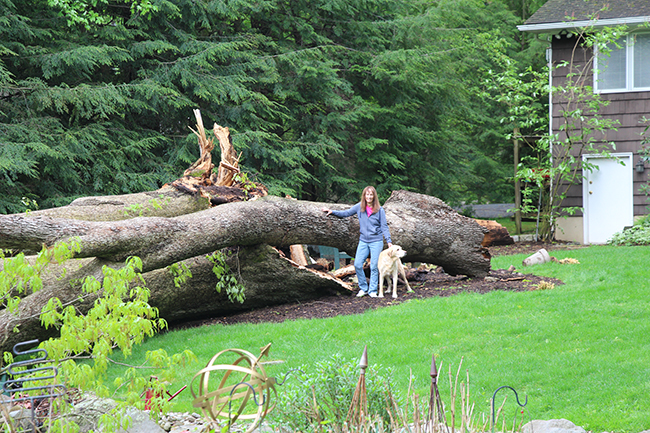 <![endif]>
We had lost a true friend and the backyard and island were never going to be the same again. We had to mount a massive cleanup and restoration project to be ready for Waldarry Festival 2018.
<![if !vml]>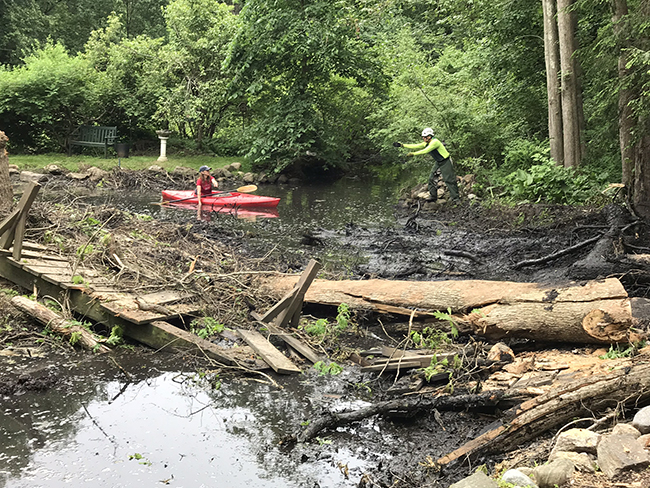 <![endif]><![if !vml]>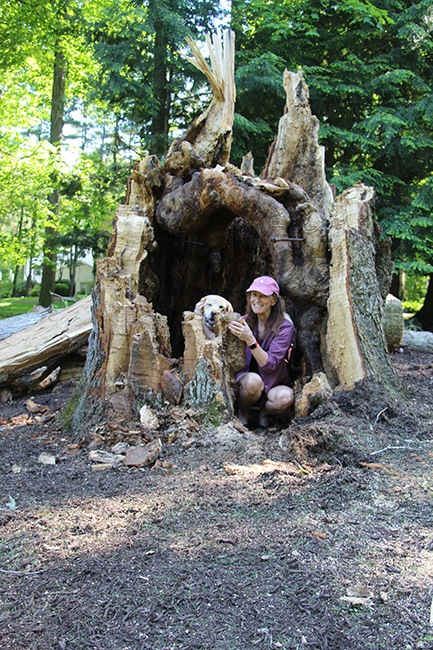 <![endif]>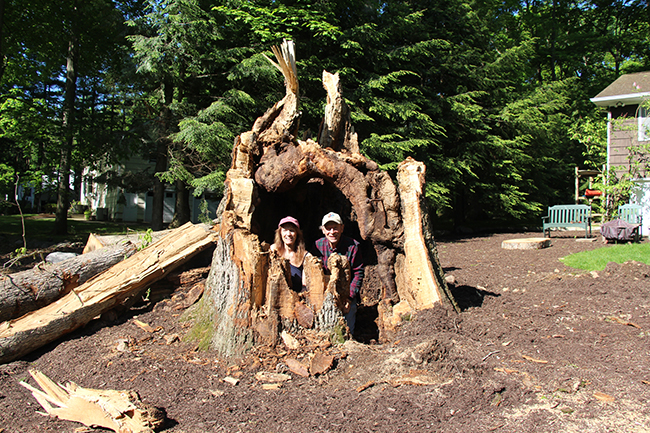 Since we knew people were going to ask, we put together a brief synopsis of how we managed to get the cleanup done.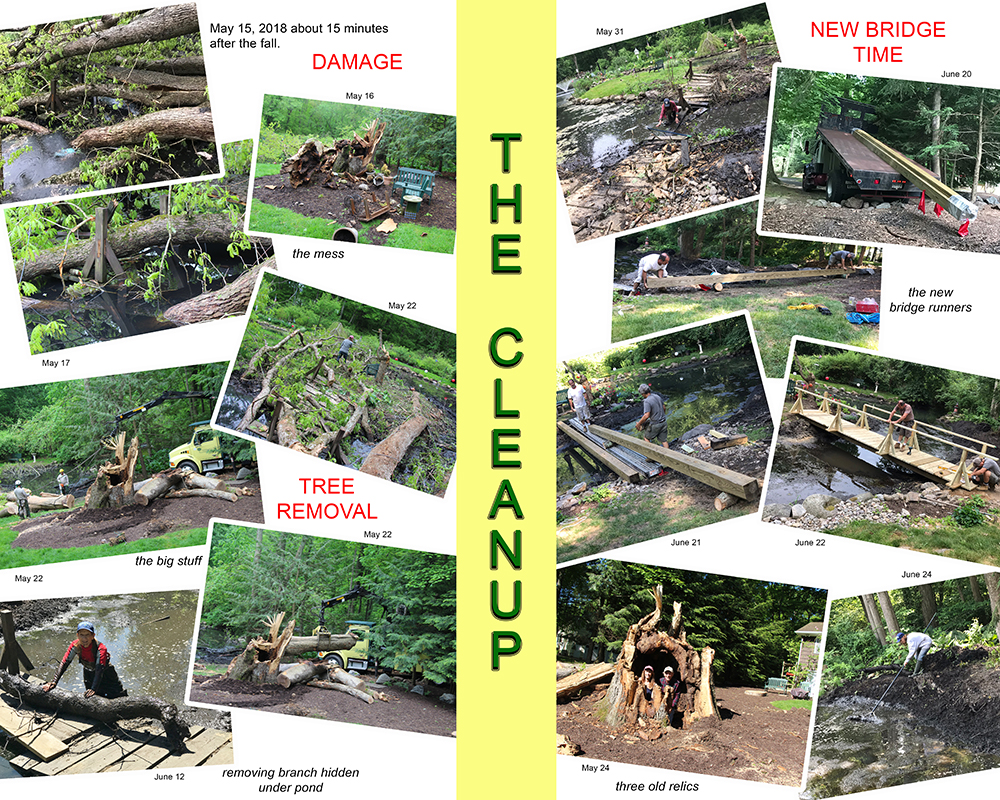 The beautiful old weeping cherry was gone, the pond was a mucky mess and a few plants struggled to survive on the end of the island after having been crushed by the oak tree.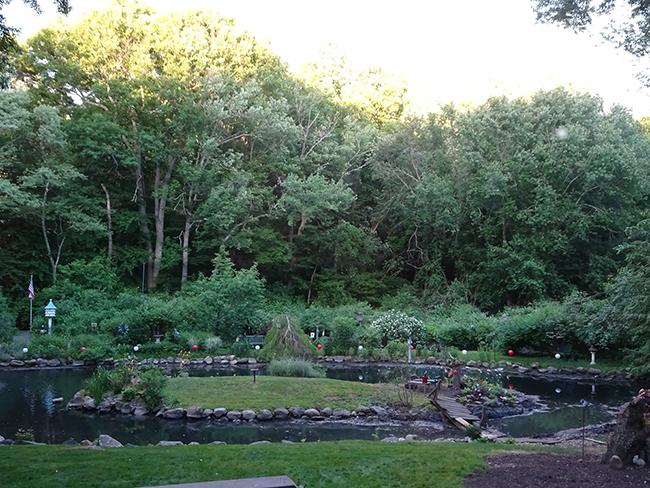 I put in a few decorations for the party and I lit the remaining oak tree stump from within for the party.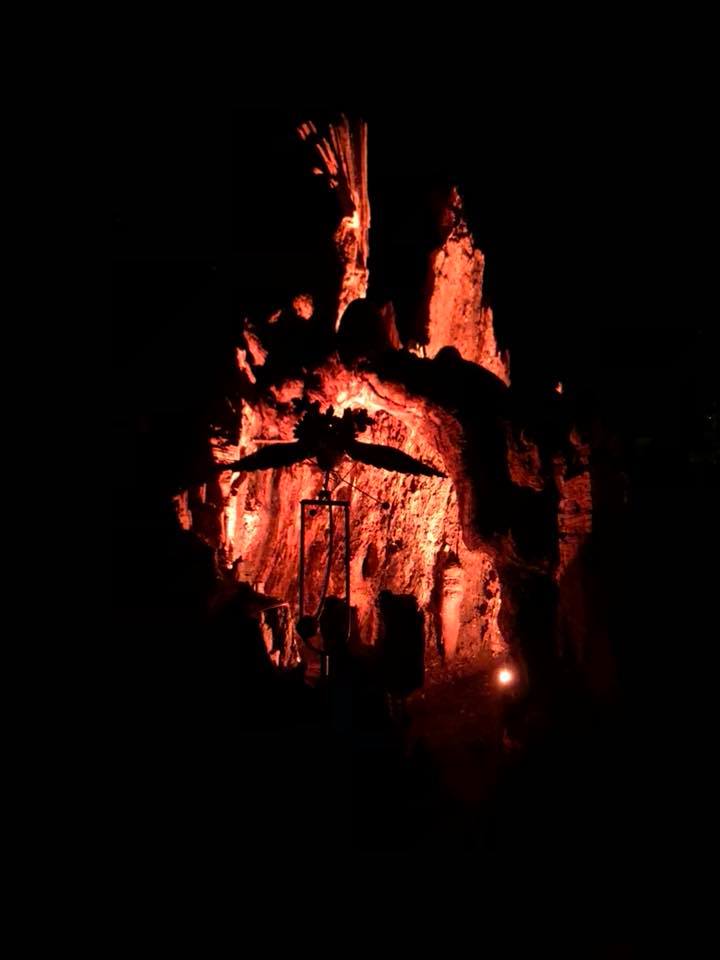 But, I knew that since this had been a shade garden these plants were not going to survive in the full sun that now baked the island for a lot of the day and I would have my garden work cut out for me in the coming year although the other gardens that were unscathed by the oak continued to flourish.
<![if !vml]>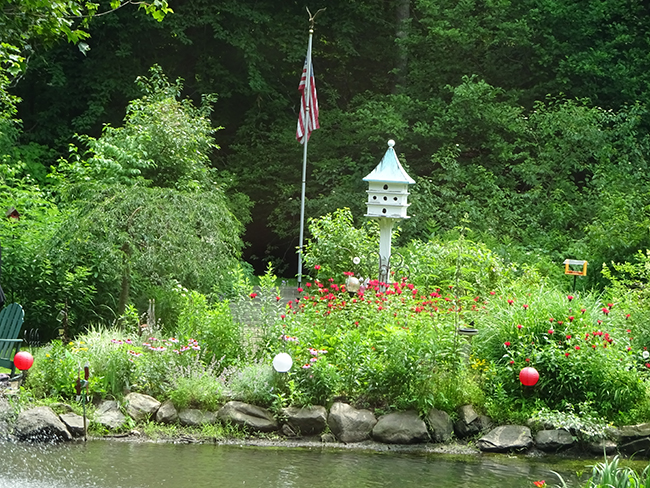 <![endif]>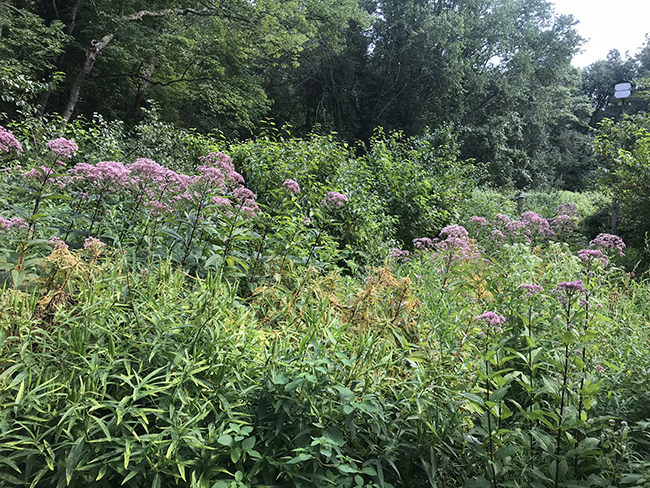 We finished the year with another short trip to Vegas to join Billy and John to see two concerts – George Strait and then Reba with Brooks and Dunn. We also took a day to hike in Red Rocks Canyon. John decided to mountain bike to the top of a very high ridge with a large rock formation called Grandfather Rock. Billy and Bob were tasked with flying the drone to film John on his descent from the top of the rock and I decided I would hike the steep trail and meet John at the top before his descent. I made it!!

<![if !vml]>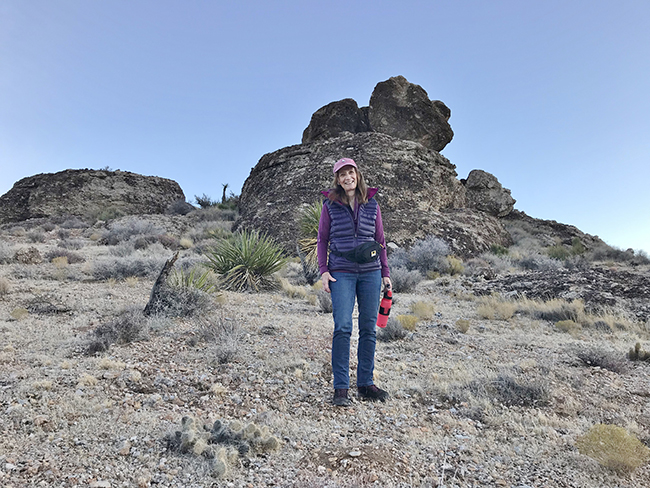 <![endif]>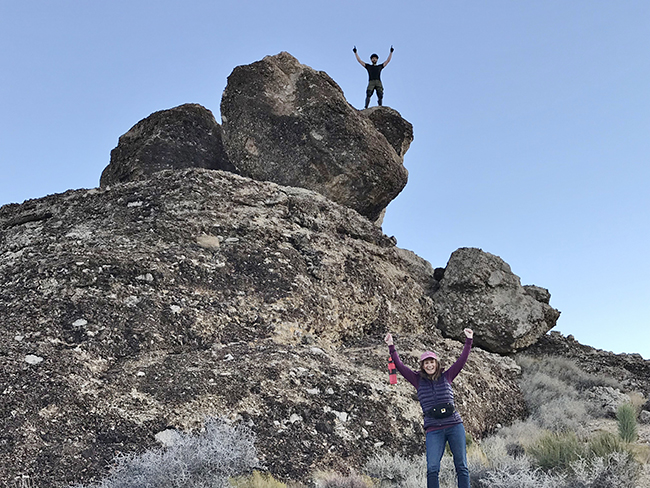 Welcome to 2019!
Climate change is real. We had thunderstorms and a rainbow in January.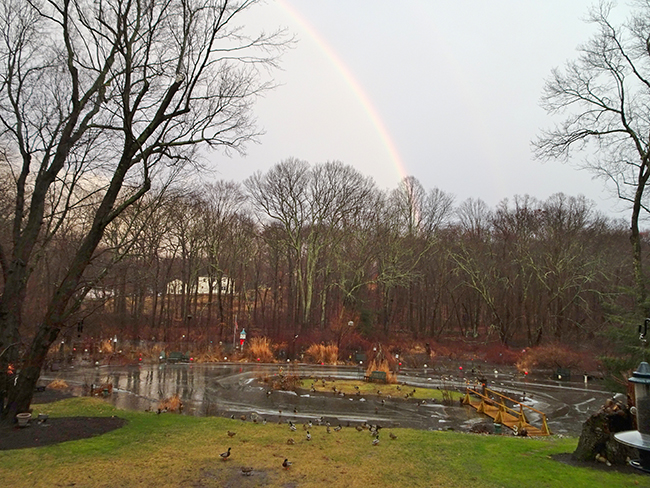 About 180 mallard ducks wintered over in the backyard pond since it didn't freeze over. We probably fed them almost a ton of corn.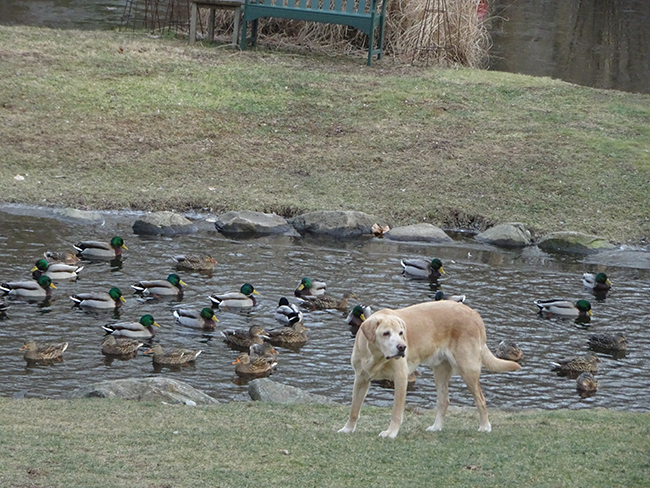 Our beloved loyal companion Chili took ill suddenly and went on to doggie heaven overnight. In April and May I restored the garden at the end of the island to be his final resting place to join Charlie who was already there. He now rests at the base of the stump of the weeping cherry under a dry koi pond.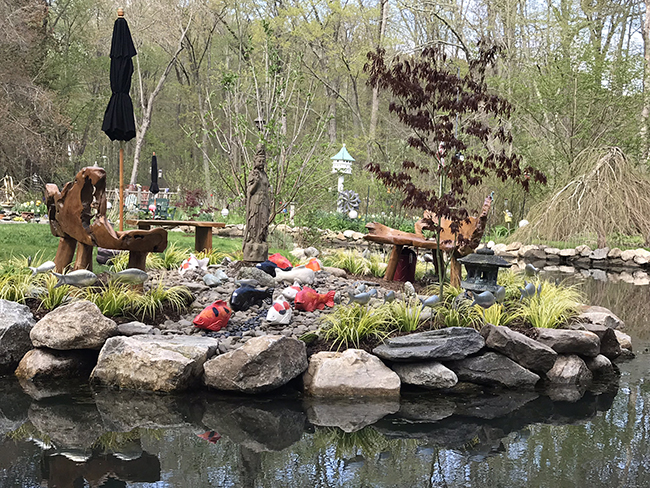 RIP – Game of Throne<![if !vml]>s<![endif]>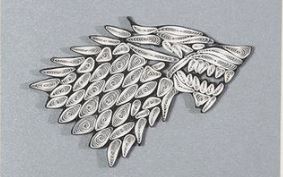 "Let me tell you something about wolves, child. When the snows fall and the white winds blow, the lone wolf dies, but the pack survives. Summer is the time for squabbles. In winter, we must protect one another, keep each other warm, share our strengths. So if you must hate, Arya, hate those who would truly do us harm. Septa Mordane is a good woman, and Sansa... Sansa is your sister. You may be as different as the sun and the moon, but the same blood flows through both your hearts. You need her, as she needs you... and I need both of you, gods help me." - Eddard Stark
----------------------------------------------
updated June 2016
---
I can't believe that I've been retired for almost 6 years! I don't feel any older and my body is still holding up so that I can continue to do the active things I love to do now that I don't have going to work to cramp my lifestyle.
Last Fall Bob and I took a two week driving tour from Phoenix to Seattle. The list of stops on the way fulfilled many of the wishes I have always had to see the western National Parks and monuments.
We started with Grand Canyon at sunset and the next day walked a little bit of the Bright Angel Trail so we could honestly say we hiked the Grand Canyon.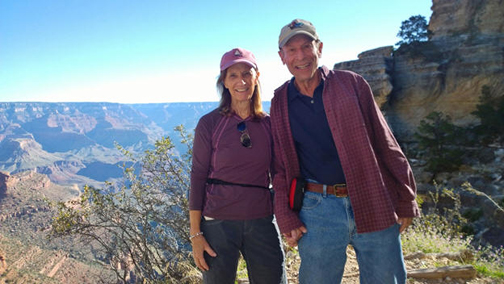 From there we drove to Hoover Dam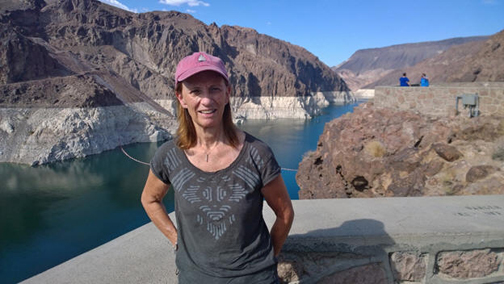 and then on to Death Valley where the thermometer read 112 degrees. The austere environment really made me appreciate what the wagon train settlers had to endure.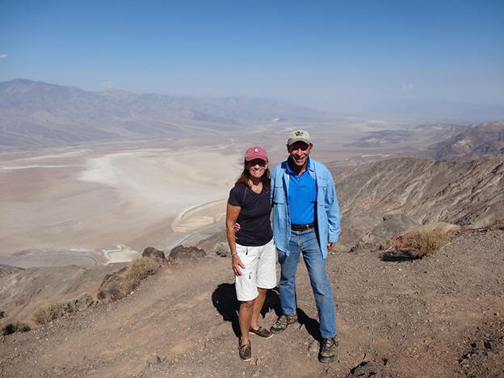 Next stop was Devil's Postpile Monument in the eastern Sierras.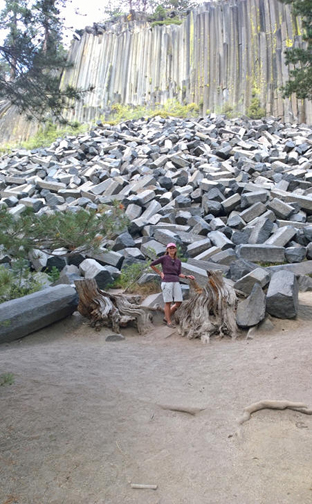 It was a very bad summer for forest fires in the west and it was evident from the smoke in the air and driving past a lot of the firefighter Hotshot trucks on our way into Yosemite National Park that the fires were relatively near the only road through the mountains.
We met Billy in San Francisco for the weekend and did the typical tourist sightseeing – Fisherman's Wharf, the Presidio, and the Golden Gate Bridge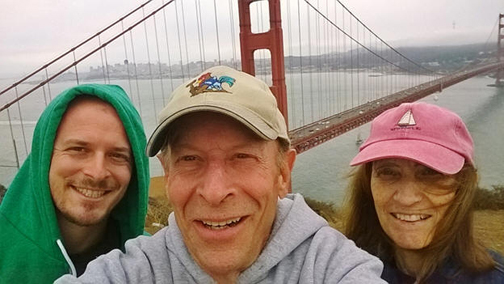 before leaving to drive up the coast to Oregon. On the way we drove through Redwood National and State Park and were in awe at the majesty of the trees and the rugged coastline.

Once in Oregon we turned east to go to Crater Lake National Park where it was actually snowing!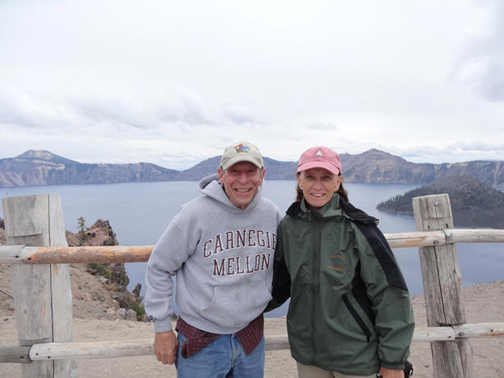 From there we drove north to visit the Newberry National Volcanic Monument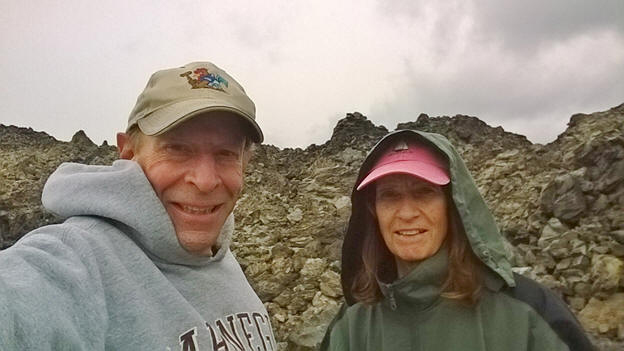 and then marveled at the Columbia River Gorge.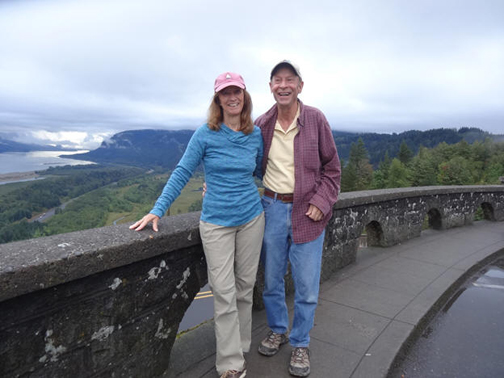 We drove west through the mountains at Snoqualmie to end up in Seattle staying with Larry and Katie for a few days and enjoying dinner at the top of the Space Needle.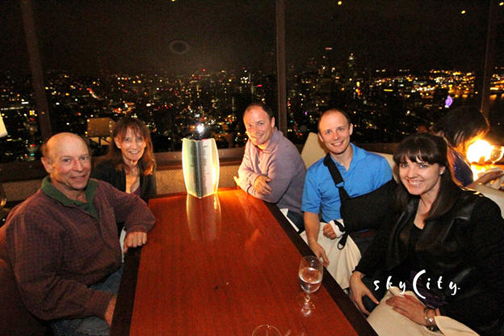 The Holiday season brought the family together for Thanksgiving and Christmas (where we even made a video to go with the card)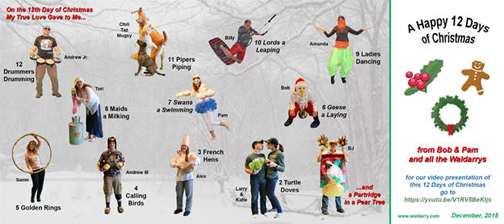 followed by our annual family skiing trip to Smugglers Notch Vermont.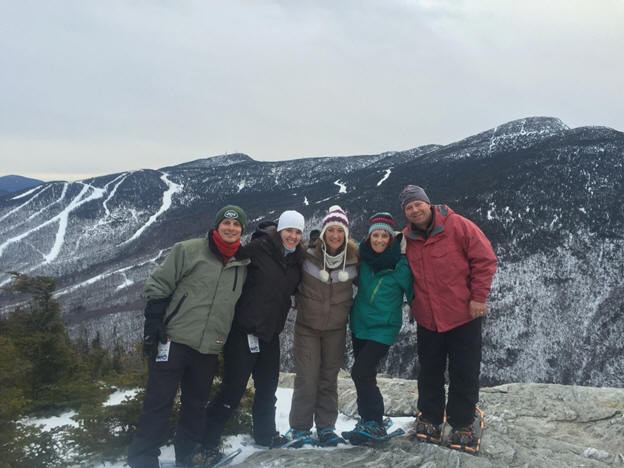 We kept busy during the winter by attending concerts and dinner theater shows.
Now that the warm weather is here, I am working constantly to enhance my gardens. I've added new seating areas and beds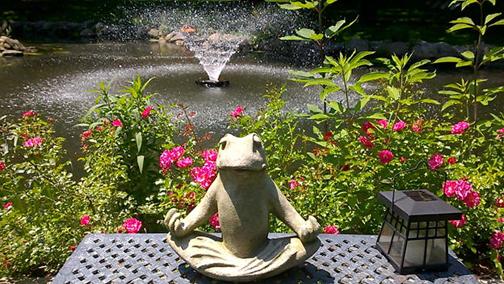 plus a raised bed vegetable garden that is double fenced to keep the deer out.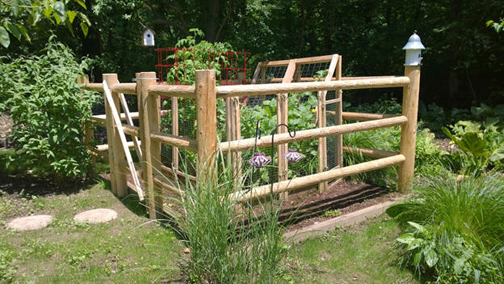 I may finally get some tomatoes this year!